2007.12.29 Saturday
迷惑なねずみ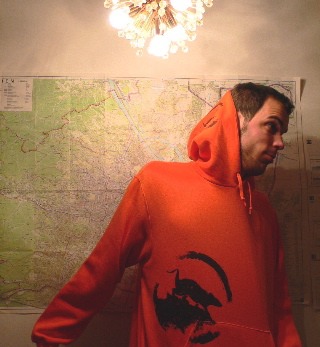 少し前にうちでTVを観ていた時のことです。ドキュメンタリー番組の
さわりの部分がはじまると、それはいきなりバウミーの横顔でした。
それもドアップ。真剣にどっかの壁にグラフィティを描いてる場面。
お仕事中の熱い男バウミー。わくわくしてその番組を観たんですが、
その内容は、こういう若者たちの落書きのせいでウィーンの街の人々
はほとほと困ってるっていうものでした〜。(笑)
(後日談:本人は撮られているのを知らなかったと悔しがってました。)
写真は、つい最近イギリスのマンチェスターでもまたまた人々に迷惑を
かけて来たバウミーです。
when i was watching TV at home a while ago. at the opening of
documentary program, i realized Baume's profile suddenly. even
so close-up. he was seriously drawing graffity somewhere on the
wall. it was the view of his work. passionable man, Baume. i was
excited and watched the program. but the subject was that,
Viennese people were troubled by these young people's graffities.
(actually, he didn't know that TV camara was taking him, and was
chagrined after i told about the program.)
the photo shows Baume, just made people's trouble also in
Manchester, England recently.