2008.04.21 Monday
我が友リカルドへ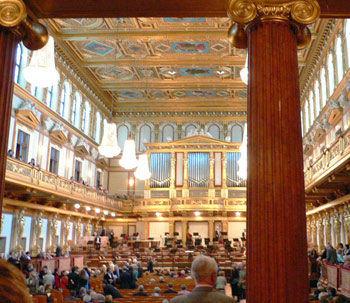 楽友などとなれなれしく呼ばれても困ってしまう「ウィーン楽友協会」。
この日は、リカルド・ムーティ指揮のウィーンフィル演奏によるヴィヴァル
ディとブルックナーをスタンド席にて謹んで拝聴賜りました。スタンド席と
いう席のない席。で我が楽友リカルドはとっても小さいけど、確かに優れた
指揮者だということが確認されたことをここにご報告致す次第であります。
ただリカルド、あのパンツの丈はかえってもう少し短くすっきり詰めた方が
いい。ブルックナーを聴きつつこんなストーリーを最近、マンガ「王様の仕
立て屋」で読んだことを思い出していました。
i'm rahter confused to be called a club mate. but anyway it's
"Muskverein" (=music friends club). this day, i respectfully listened
to Vivaldi and Bruckner in a standing seat, which was conducted by
Riccardo Muti, and performanced by the Vienna Philharmonic. on a
seat it doesn't have any seat under the name of seat... my music
friend Riccardo is certainly distinguished conducter even so short.
this is how i report today. but just you know my friend Riccardo,
all the better if your trousers would be little bit more shorter
clean-cut. besides listening Bruckner, i was remembering this kind
of story which i also read recently in the comic "Saruto Finito".